The One And Only – Ultra Luxurious Residences in
Prime District 10
86 & 88 Orchard Boulevard
Twin 28-storey blocks
Freehold Two Bedroom+Study, Three Bedroom, Four
Bedroom & Penthouse Residences in the heart of the Orchard
EXPANSIVE RESIDENCES
OF EXQUISITE TASTE
View from Orchard Boulevard
Nestled in prime District 10 along Orchard Boulevard, Boulevard 88 is an exclusive freehold address beyond compare. Experience the privilege of open spaces that offer comfort and tranquility in a stunningly crafted sanctuary. The iconic residential towers are elevated to provide unrivalled views, now yours to own. Spanning the two residential towers at the top is the Sky Boulevard, creating a dramatic tall 'urban window' and an outstanding skyline silhouette that is visible from the city's surround.
Designed by world-renowned architect, Moshe Safdie is also an urban planner, educator, theorist, and author. Over a celebrated 50-year career, many projects become beloved regional and national landmarks, including Marina Bay Sands Integrated Resort and Jewel Changi Airport, Singapore.
He has been named the 2019 Wolf Prize Laureate in Architecture by the International Wolf Foundation. The Wolf Prize is considered the second most important in the world after the Nobel Prize.
RISING ABOVE THE SINGAPORE
EDITION HOTEL
View from Cuscaden Road
The two residential towers of Boulevard 88 is perched above The Singapore EDITION Hotel.
A unique concept in the lifestyle hotel space conceived by Ian Schrager and Marriott International, The Singapore EDITION Hotel is an iconic eight-storey luxury hotel acclaimed for its artful aesthetic with 204 guest rooms.
Set to reinvigorate the hotel sector, The Singapore EDITION's design and services will offer a distinctive hospitality experience defined by Singapore's embrace of the future, technology, arts and culture. It will be a place where travellers and locals alike will want to congregate, to celebrate and contemplate life.
For Schrager, the EDITION Hotel is the next chapter in the luxury and lifestyle hotel story. Now open in New York, London, Shanghai and other major cities, he has secured his reputation in delivering a truly distinct brand that sets itself apart from anything else currently in the hospitality realm.
NEW LEVELS OF LUXURY
A highly desirable address of the privileged few, life is certainly awe-inspiring at Boulevard 88. With the city before you, the rarefied world above awaits with a plethora of indulgent spaces. From a generous Sky Club for private social functions; a gourmet Sky Kitchen for fine dining in-house; a Sky Lounge for drinks with a view; a Sky Gym with state-of-the-art equipment to a spectacular Infinity Sky Pool to immerse in luxury, every moment sets the standard for the finest experiences imaginable.

Note: Actual travelling time is subject to traffic conditions
Located in an impeccable neighbourhood of distinction, Boulevard 88 puts you in the epicentre of cosmopolitan Singapore. With the city's major shopping belt, international hotels, medical centres, cafes and restaurants, Boulevard 88 is a stone's throw to all the sophistication and excitement of Orchard Road. Offering a lifestyle of ease that is mere minutes from the Orchard MRT and the upcoming Thomson-East Coast Line (Orchard Boulevard Station).
Already one of the world's most famous shopping streets, there are major plans to make it even more desirable. Boulevard 88 is perfectly located to benefit from this transformation as Orchard Boulevard is at the nexus of the Tanglin and Orchard Road sub-precincts. With exciting plans to link and curate the arts, entertainment and shopping experiences like never before, Orchard Road will always be the lifestyle pulse of Singapore for years to come.
A SANCTUARY CRAFTED
FOR YOUR SENSES
Designed to enhance the expanse of space, every conceivable detail in Boulevard 88 has been addressed to let life flow. Best of all, its freehold status is a vivid celebration of the finer things in life for generations to enjoy. With just 154 fine residences, whichever home you choose from two-bedroom + study, three-bedroom to four-bedroom units and penthouses, each and every one is positioned for supreme privacy. And the view? Nothing less than magnificent with a layout that is created for the fullest appreciation of the panorama.
In the bedroom, a good night's rest is assured with a spatial layout that allows more room for individuality. At Boulevard 88, only the finest quality materials and fittings are considered, such as the Italian Caccaro Wardrobe. This indulgence extends to the master bathroom, elegantly finished with Van Gogh accent marble and fitted with designer collections from Antonio Lupi and Hansgrohe AXOR Citterio E. Even for the kitchen area, only top-of-the-line kitchen cabinetry from the Ernestomeda Icon series is considered.
ARRIVAL LOBBY & DROP-OFF
@ LEVEL 1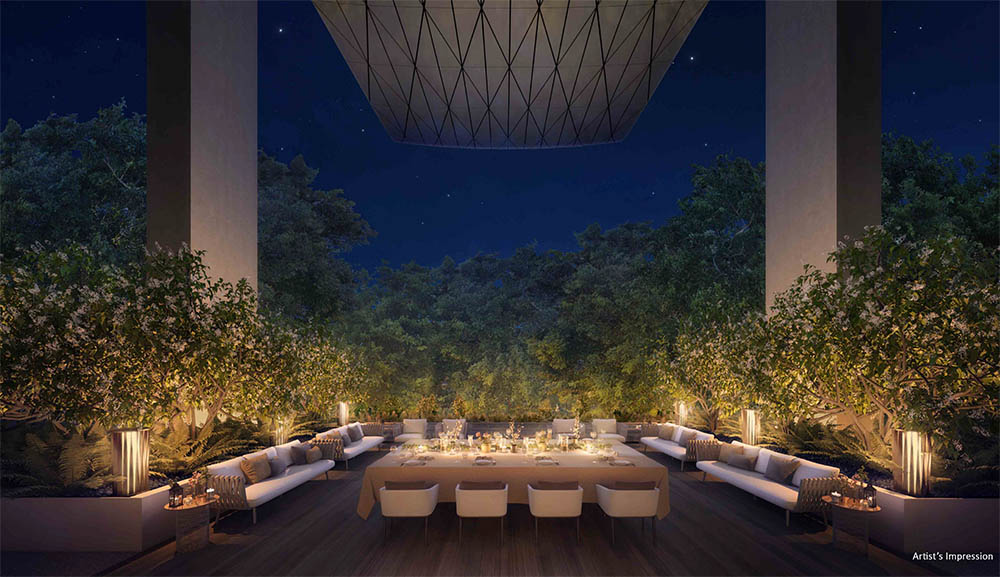 INFINITY SKY POOL
WITH CABANAS
SKY CLUB
@ LOWER ROOF LEVEL
Be Pampered By Signature Residential Services
• Well-trained Residential Hosts on hand to take care of your requests
• Choose from an array of Signature Residential Services* which includes welcome assistance,
baggage & luggage assistance, jogging amenities, wet weather assistance, delivery
acceptance, transport arrangements, facility booking and many more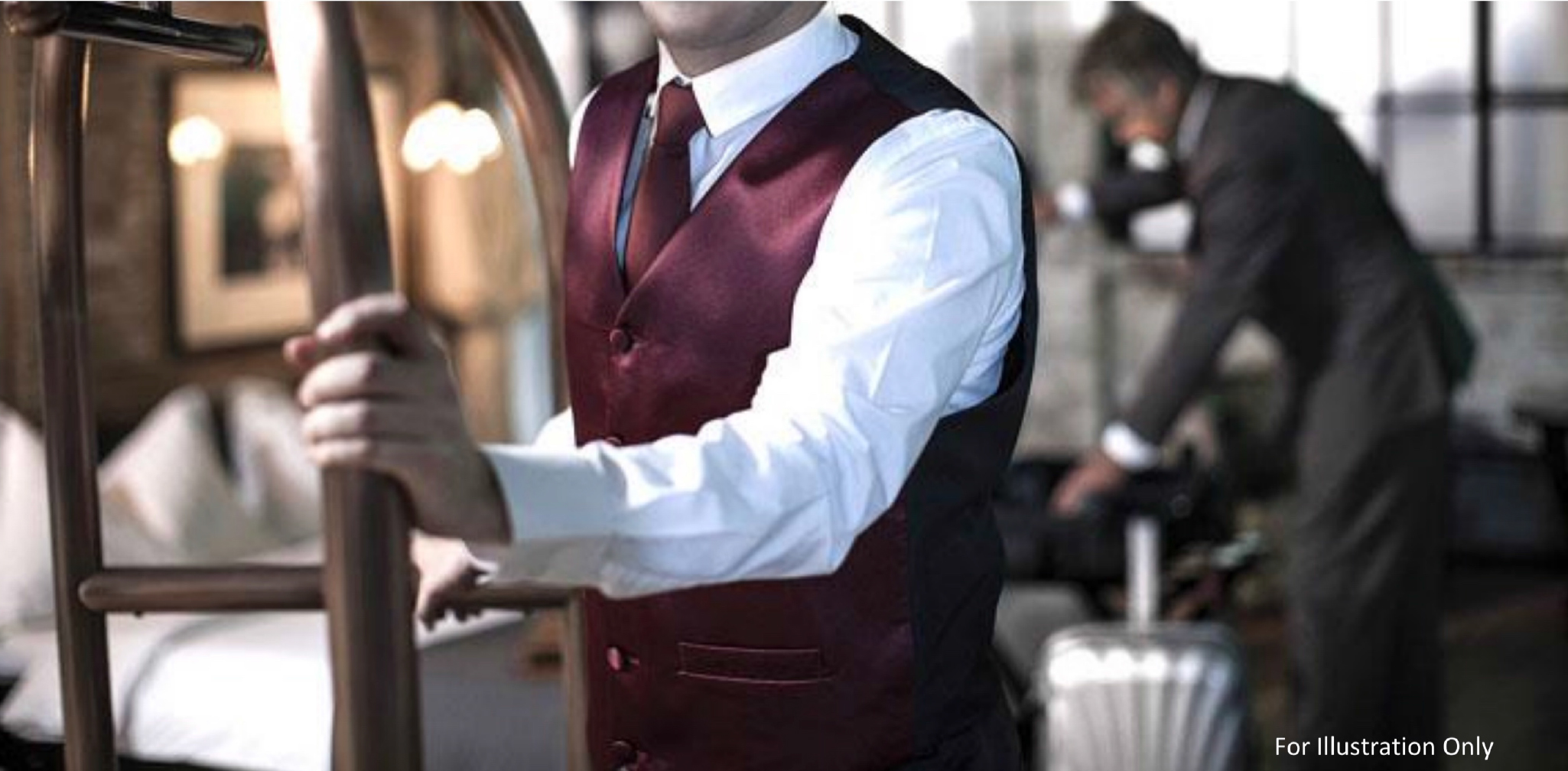 Welcome & Assistance
From opening doors to more, our Residential Host is on hand to welcome both residents and visitors, and to assist with directions, queries or requests.
Bag & Luggage Assistance
Going away or returning home, let us carry your bags from doorstep to kerbside and vice versa.
Jogging Amenities
Be greeted at the end of your exercise with a refreshing cold towel, face mist and bottled water.
Loan of Bicycles
Feel free to borrow our bicycles for a ride around the estate or the neighbourhood.
Loan of Wheelchairs
Wheelchairs are available should you or your guests need one.
Wet Weather Assistance
Let us shelter you from inclement weather. We'll be glad to loan you an umbrella too.
Delivery Acceptance
Deliveries will be signed and paid for if necessary, and sent up at your convenience.
Transport Arrangements
Whether it's a stretch limousine or a taxi, our Residential Host makes booking one a breeze.
Signature Welcome
Relax from the moment you step in with a cold towel, face mist and drink, while a kids' play corner keeps the little ones entertained.
Beverage Service
Enjoy from a selection of tea or a cup of coffee throughout the day.
Towel Service
Towels are available for your use at the pool.
Reception Service
At your request, we will provide apartment access for visiting guests, expected deliveries and maintenance.
Estate & Local Area Information
We'll be happy to answer questions about Boulevard 88 or the latest happenings in town. You can also request a walk-through of the estate.
Facility Reservations
Allow us to help schedule the use of communal spaces like the Clubhouse and BBQ.
Service Request Handling
We are ready to receive your service needs and will liaise with relevant parties to fulfil your requests.
Restaurant, Hotel & Transport Reservations
We can help recommend and book your choice of restaurant, hotel or transport, here or abroad.
Laundry & Housekeeping Services
Leave it to our trusted vendors to keep things spick and span.
Catering & Parties
From the food to the hiring of entertainment and private chefs, we are here to assist.
Pet Care Services
Our recommended vendors can provide grooming, pet sitting and more.
Personal Trainer
Make the most out of our 24-hour gymnasium with a trainer on call.
Mail & Courier Services
Just leave your parcels with us and we'll send them out for you.
Moving In Assistance
Settle in seamlessly with assistance on the application for vehicle access, utilities as well as other services.
Handyman, Pest Control & IT Support Services
Help with home maintenance or tech issues is just a call away.
Digital Lockset For 2 + Study & 3 Bedroom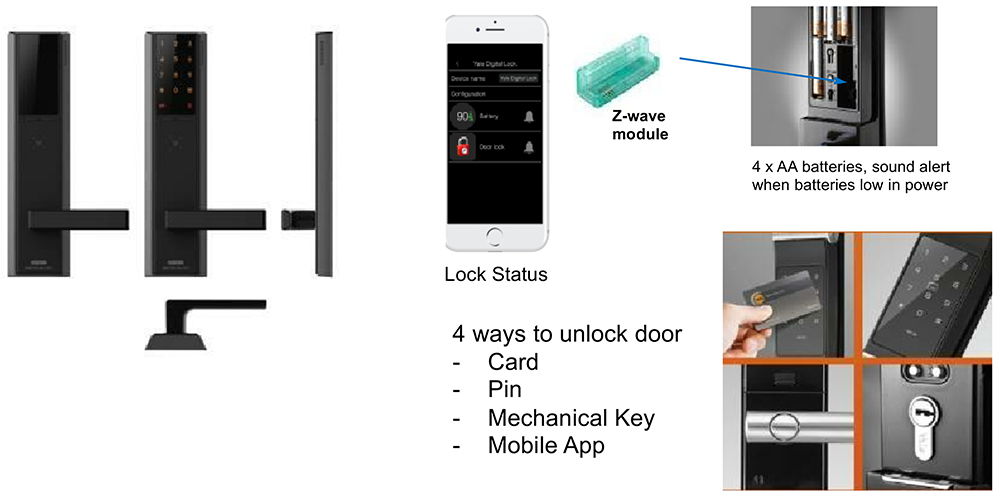 Digital Lockset For 4 & Penthouse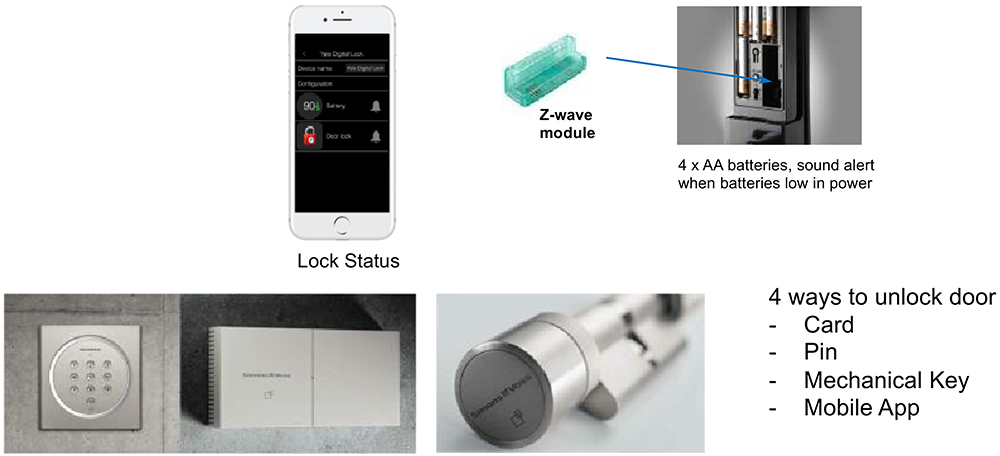 GREEN MARK
1. Good building orientation which allows for good natural ventilation in the common areas and dwelling units.
2. Building façade designed with Northeast and Southwest facing facades, high performance glazing to lower solar heat gain, also balconies provide shade to Northeast and Southwest facing facades.
3. Efficient lighting design by use of LED and provision of motion sensors.
4. The provision of NEA 5 ticks energy efficient air conditioning system for all the units contributes in energy savings for the development.
5. Energy efficient lifts with regenerative drive, VVVF (variable voltage variable frequency) drive & sleep function mode.
1. Water efficient sanitary fittings in all residential units.
2. Automatic water efficient irrigation system for major landscape areas.
3. Water harvested from rainwater used for landscape irrigation.
4. Extensive use of environmentally friendly and sustainable materials certified by Singapore Green Labelling Scheme.
5. Use of low volatile organic compounds paints for all internal wall to ensure healthy indoor air quality
6. Bicycle parking lot provided to promote green transport and healthy lifestyle.
7. Recycling bins separating paper, glass and plastic are provided at each residential block in the development.
8. Use of non-chemical termite treatment system.
Fill in the form below to download our e-Brochure.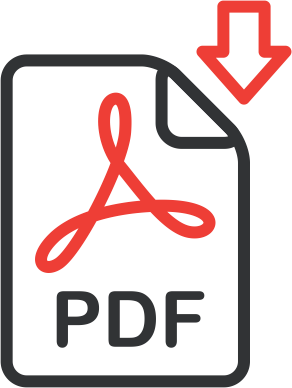 A PARTNERSHIP BUILT ON EXCELLENCE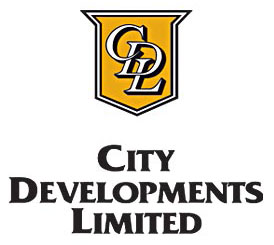 City Developments Limited (CDL) is a leading global real estate operating company with a network spanning 100 locations in 28 countries. With a proven track record of over 50 years in real estate development, investment and management, CDL has developed over 40,000 homes and owns over 18 million square feet of lettable floor area globally. Its diversified land bank offers a solid development pipeline in Singapore as well as its key overseas markets of China, UK, Japan and Australia.
Established in 1968, Hong Leong Holdings Limited (HLHL) is the privately-held property development and investment arm of the Hong Leong Group. As one of the pioneers of the real estate scene in Singapore, HLHL has since emerged as a major player in the property market, making it one of the most sought-after providers of a comfortable home.Together with its sister company City Developments Limited, it is one of the biggest commercial landlords in Singapore's core Central Business District and holds one of the largest non-government residential land bank in Singapore. It has positioned itself as a market leader with quality residential, commercial and mixed-use projects in some of Singapore's most coveted neighbourhoods.
LEA INVESTMENTS PTE LTD
Lea Investments Pte Ltd is a related company of Goodwood Park Hotel.
CONTACT US


FOR SHOWFLAT PRESENTATION
Please fill in the form below and we will contact you shortly.